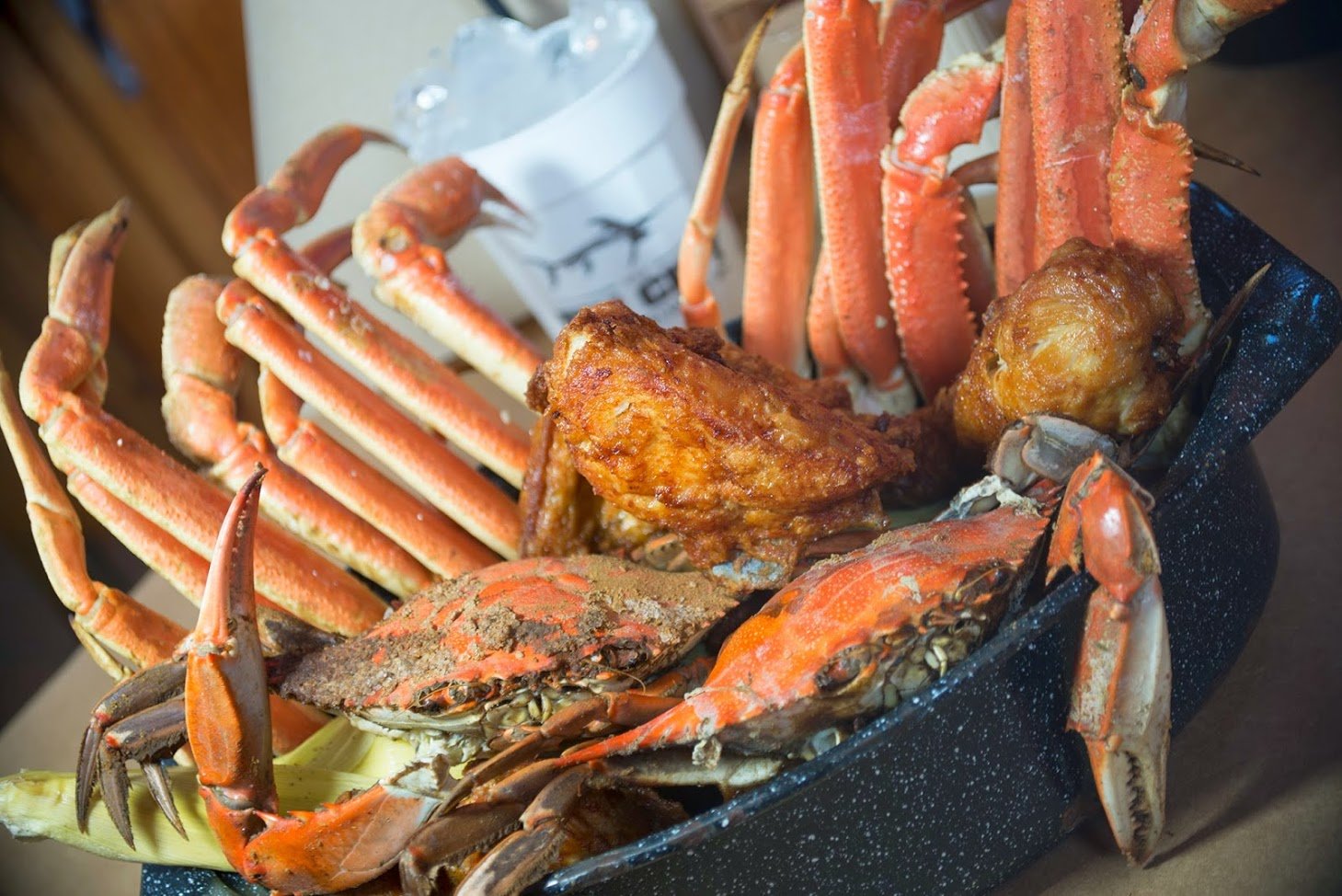 Carry Out Menu
Please Call 410-213-1771 to place your order in advance!
Almost 40 years now, and thanks to all our wonderful customers, we are still going strong! It truly has been a great experience having a dream and watching it become a reality, knowing all the hard work was sooo worth it!
We have come a long way over all these years—from a corn field to an adventure. We have very much enjoyed seeing and getting to know all the wonderful familiar faces each season and to be able to introduce and share Hooper's with so many new customers; is always a pleasure.
We sincerely hope you have enjoyed watching us grow through the years and that you continue making Hooper's your destination point.
We appreciate and "Thank You" for choosing us. Enjoy your visit and we look forward to seeing you again—soon.
Sincerely,
Pete and Royette Shepherd, Ryan, Patrick, Mike, Justin, & Hooper's Staff
GF = Gluten Free
Starters

Calamari

Lightly breaded and served with homemade marinara.

Scallop Skewers

Scallops wrapped in apple smoked bacon glazed with our signature BBQ sauce GF

Chicken Wings

Traditional wings served Hot, House Spice or BBQ. GF

Raw Oysters on Half Shell, Half-Dozen - GF

Rockfish Fingers

A local's favorite served with a homemade roasted red pepper sauce.

Coconut Shrimp

Jumbo shrimp lightly dusted in coconut flakes served with raspberry habanero sauce.

Stuffed Mushroom Caps

Silver dollar mushrooms filled with our crab imperial topped with a light cream sauce. GF

Crabby Pretzel

Hooper's crab dip spread, topped with cheese and our own seasoning.

Clams

Full Bucket of Top Necks. GF

Steamed Shrimp - 1/2 lb

Enjoy our succulent shrimp steamed with hoopers special blend of spices and onions. GF

Steamed Shrimp - 1lb

Enjoy our succulent shrimp steamed with hoopers special blend of spices and onions . GF

Basket of Crab Claws

The perfect touch of blue crabs that complement any meal! GF

Crab Cocktail

Delicious Maryland Jumbo lump crab meat and blue crab cocktail claws served with lemon and crackers

Clams Casino

6 top necks prepared in the Hooper's Casino tradition. GF

Signature Salads

Available salad dressings: House Balsamic and Spicy House Ranch, Bleu Cheese, & Citrus Vinaigrette

Romaine Wedge

Romaine heart topped with bacon and blue cheese crumbles, served with blue cheese dressing. GF

House Salad

Fresh greens, carrots, cucumbers, tri-colored tomatoes and red onions. GF

Caesar Salad

Crisp Romaine lettuce tossed in our homemade Caesar dressing.

Make your house or Caesar salad extra special with one of these add ons:

Chicken Breast $7 | Salmon $12 | Scallops $12 | Grilled Shrimp $10

Crab & Avocado Salad

Jumbo lump crab meat, avocado, and crispy bacon over mixed greens with a citrus vinaigrette. GF

Soups

The Bucket List

Please, no substitutions.

Clam Bake for Two

Two bowls of soup, two one-pound steamed lobsters, four steamed clams, two large crabs, four shrimp, two snow crab leg clusters, four steamed mussels, two ears of corn, coleslaw.

Awesome Clawsome

1 lb. Lobster, one snow crab cluster, two blue crabs and corn. GF

Short Shoreman

Two clusters of snow crab legs, 1/4 lb. steamed shrimp, four clams, four mussels and corn. GF

Beverages

By the Glass $3
Stadium Cup 22oz. $6 Free Soft Drink & Iced Tea Refills

Stadium Cup

22 0z. Souvenir Cup
Free refills on soft drinks and iced tea

Filled with your choice:
Draft Beer, Soda or Iced Tea: $6
Draft Beer Refills: $3
Select Mixed Drinks $11
Select Mixed Drinks $7

Beverages

| | | |
| --- | --- | --- |
| Pepsi | | Dr. Pepper |
| Diet Pepsi | | Raspberry Iced Tea |
| Sierra Mist | | Unsweetened Fresh Brewed Iced Tea |
| Mountain Dew | | Milk |
| Birch Beer | | Chocolate Milk |
| Ginger Ale | | Coffee |
| Pink Lemonade | | Hot Tea |

Fruit Smoothies $6
(Strawberry, Pina Colada, Banana, & Tropical Fruit Punch)

Beer

Alternatives

Truly Mixed Berry, Angry Orchard, Twisted Tea

Craft Cans

Double Huk 2xIPA, Bimini Key Blonde Ale, Weedline Session IPA, Bad Luck Banana Porter, Poor Man's IPA, White Marlin Pale Ale

Fin City Flounder

4 pack of sampler drafts
Bimini Key, White Marlin Pale Ale, Craft Rotating Tap and Poor Man's IPA

Bucket of our Newest Reel-eases!

Mix n Match Buckets, Six Cans.
Single cans $4 each

Domestic Bottles

Coors Light, Miller Lite, Bud, Bud Light, Mich Ultra, Corona, Heineken, Heineken 0.0

Draft Beer

By the Pint or 22 oz. Stadium Cup.
Bimini Key, Poor Man's IPA, White Marlin Pale Ale, Weedline Session IPA, Coors Light, Miller Lite, Yuengling, Natty Boh, Blue Moon, Craft Rotating Tap

Wine

Served by the glass or bottle.

Wine

Served by the glass or bottle

Red
Black Oak Merlot
Mark West Pino Noir
Altos del Plata Malbec

White
Kendall Jackson Chardonnay
Black Oak Chardonnay
Kendall Jackson Pinot Grigio
Cupcake Prosecco
Jacob's Creek Moscato

Seafood

All entrees served with the fresh vegetable and starch of the day!

Triple Trifecta

1 lb. snow crab legs, lobster tail, and a homemade crab cake—broiled or fried.

Shrimp Scampi

Butterflied shrimp sauteed in our signature scampi sauce served over a bed of pasta.

Scallop Scampi

Fresh jumbo scallops sauteed in the classic garlic white wine sauce served over a  bed of pasta.

Blue Crab Tacos

Lump crab meat, Hass avocado and fresh corn salsa.

Catch of the Day

Fresh off the boat, today's daily catch. Ask your server.

Stuffed Flounder

Fillet of Flounder stuffed with shrimp, lobster, scallops, and provolone cheese. Baked and topped with Imperial Sauce.

Maryland Crab Cake Platter

Twin crab cakes delicately seasoned and fried or broiled to perfection.

Snow Crab Legs

Over 2 lbs. of delicious snow crab legs served with drawn butter and lemon. GF

Three Way Combination

Lobster, scallops, and shrimp broiled in a delightfully seasoned white wine and butter sauce, served over a bed of pasta.

Seafood Platter

Eastern Shore lump crab cake, shrimp, fillet of fish, and tender scallops. Mouth watering delicious. Your choice broiled or fried.

Seafood Fiesta

An overstuffed burrito with lobster, shrimp and scallops.

Fried Fish Platter

Two fillets of pub battered Haddock.

Fried Shrimp Platter

Generous helping of large shrimp.

Salmon

Fresh Atlantic caught salmon seared to perfection.

Fish Tacos

Your choice of crispy cod or grilled mahi mahi, fresh pico de gallo, boom boom sauce, zesty cilantro and lime slaw.

Poultry

Chicken Caprese

Twin grilled chicken breast layered with fresh mozzarella and tomato drizzled with a balsamic reduction. GF

Fried Chicken Platter

Eastern Shore favorite - dipped in our own special blend of seasonings and fried to a tender and moist taste.

Twin Grilled Chicken Breasts

Plain, BBQ, Jerk or Cajun. GF

Hooper's Cookout Combo

2 pieces fried chicken, half rack of BBQ baby back ribs, corn, and cole slaw.

Beef and Pork

Certified Angus Beef. (Not responsible for well done meat.)

Hooper's Surf & Turf

Choose between a whole lobster, snow crab clusters or crab cake served with a 6oz center cut filet.

NY Strip

A 14 oz. center cut NY strip seared with sea salt and pepper - topped with our house butter. GF

Prime Rib

A 16 oz of the finest quality hand cut aged beef prepared to your specifications (blackened upon request) . GF

Pulled Pork Tacos

Mouthwatering slow roasted pulled pork tacos.

Baby Back Ribs

A healthy serving of tender baby back ribs simmered in Sweet Baby Rays BBQ sauce. GF

Fajitas

A classic choice of chicken or steak.

All You Can Eat

All-You-Can-Eat Crab Feast!

Steamed Crabs (seasoned with Hooper's Crab Spice), Steamed Shrimp, Hooper's Fried Chicken, Corn On The Cob, and Hush Puppies.

Lil' Hooper Troopers

Available for children 10 and under. All items served with french fries, fruit, and a kids drink.

Hooper's Famous Fried Chicken

Kids Crab Combo

2 Crabs, Fried Chicken, Hush Puppies, Shrimp and Corn.

Kids Feast

Kid's Feast

2 Crabs, Fried Chicken, Hush Puppies, Shrimp, and Corn

Somethin' Fishy

All served with Rice and Vegetable. Grilled or Blackened. Sauces available for your fresh fish selection: Mango Salsa, Garlic White Wine, Coconut Curry, or Wasabi Cream

Add Ons

Hooper's Stadium Cup Special

Stadium Cup

22 oz. Souvenir Cup filled with your choice of Draft Beer, Soda or Iced Tea. $6

Draft Beer Refills $3
Select Mixed Drinks $11
Select Mixed Drink Refills $7

Free Refills on Soft Drinks and Iced Tea.

Ice Cream

Vanilla, Chocolate, Cookies & Cream, Flavor of the Week

Ice Cream

2 Scoop Cone or Cup $4
Root Beer Float $5
Rainbow Sprinkles, Chocolate Sprinkles, Chocolate Syrup $0.50 each
One check per table please. Gratuity will be added to parties of 8 and larger.