Live or Steamed Crabs from Hooper's Crab Steam Truck Available at: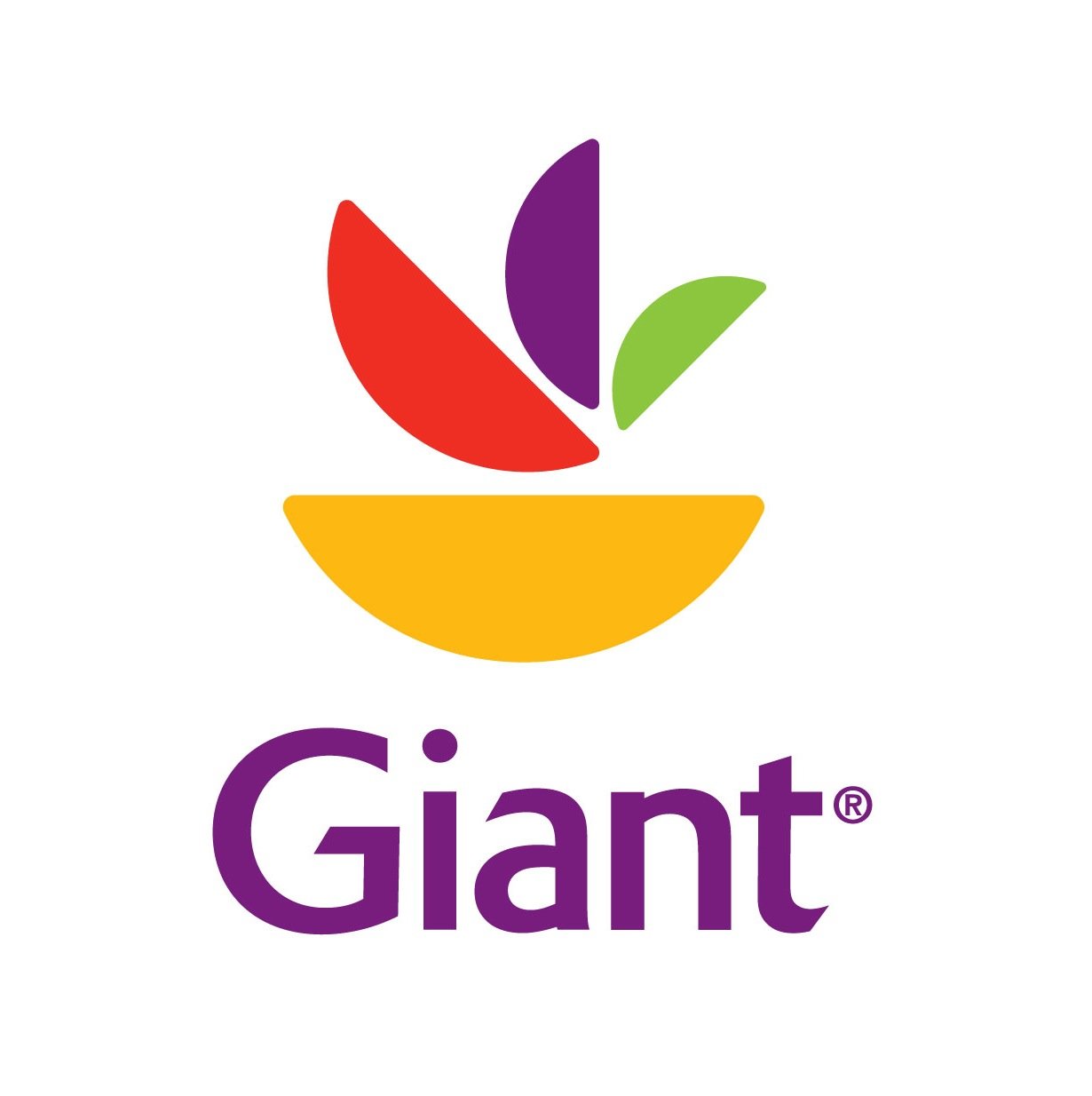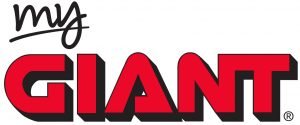 Available in Singles, By the Dozen, Half Bushels & Bushels.
Fast & Simple!
Grab Your Ticket – Go Shopping – Pay Inside at the Register – Pick up your crabs on the way out!
Order Online or Catch the Wagon 11am-5pm (while supplies last) at participating Martin's / Giant locations!
#1 Larges
 
#2 Larges
Available by Pre-Order Only!
$2.99/Each
$1.99/Each
$39.99/Dozen
$24.99/Dozen
$109.99/½ Bushel
$59.99/½ Bushel
$199.99/Bushel
$109.99/Bushel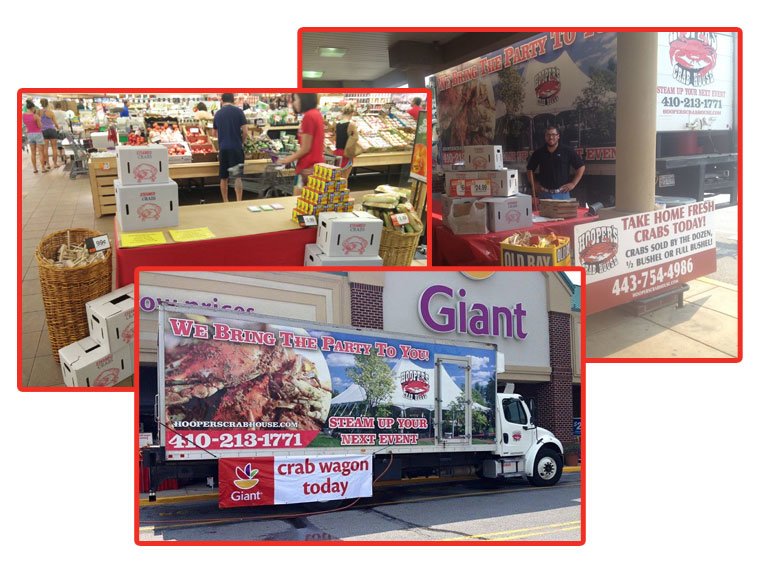 Saturday, July 1, 2017
Giant #123
7074 Allentown Road
Temple Hills, MD 20748
(301) 248-9578
Giant #347
10480 Campus Way South
Largo, MD 20774
(301) 336-9402
Giant #6003
739 Park St
Cumberland, MD 21501
(301) 777-7656
Giant #6282
409 South St
Front Royal, VA 22630
(540) 635-2249
Sunday, July 2, 2017
Giant #127
17821 Georgia Avenue
Olney, MD 20832
(301) 570-1665
Giant #310
15520 Annapolis Road
Bowie, MD 20715
(301) 809-3150
Giant #6102
190 Flowing Spring Rd
Charles Town, WV 25414
(304) 728-8696
Giant #6529
4510 Marketplace Way
Enola, PA 17025
(717) 909-7012
Tuesday, July 4, 2017
Giant #166
4622 Wilkens Avenue
Baltimore, MD 21228
(410) 242-4669
Giant #2376
1400 7th Street NW
Washington, D.C. 20001
(202) 238-0180
Giant #6054
455 Eisenhower Dr
Hanover, PA 17331
(717) 632-2882
Giant #6087
2415 East Market St
York, PA 17402
(717) 755-0991
Saturday, July 8, 2017
Giant #109
405 N. Center Street
Westminster, MD 21157
(410) 857-3579
Giant #2379
3336 Wisconsin Avenue NW
Washington, D.C. 20016
(202) 237-5820
Giant #330
3500 Crain Highway
Bowie, MD 20716
(301) 352-2360
Giant #334
3521 East West Highway
Hyattsville, MD 20782
(301) 853-3700
Giant #362
20944 Frederick Road
Germantown, MD 20876
(301) 515-9282
Giant #6267
44 Natural Springs Rd
Gettysburg, PA 17325
(717) 337-0017
Giant #6299
200 Rivendell Ct
Winchester, VA 22603
(540) 723-6232
Giant #6307
1320 Londontown Blvd
Eldersburg, MD 21784
(410) 552-5107
Sunday, July 9, 2017
Giant #2311
1115 Annapolis Road
Odenton, MD 21113
(410) 305-2370
Giant #322
11604 Reisterstown Road
Baltimore, MD 21136
(410) 526-1660
Giant #335
1700 Kingfisher Dirve
Frederick, MD 21701
(301) 815-2200
Giant #350
11221 New Hampshire Avenue
Silver Spring, MD 20904
(301) 593-1225
Giant #373
5500 Silver Hill Road
District Heights, MD 20747
(301) 817-3180
Giant #6018
760 Pennsylvania 113
Souderton, PA 18964
(215) 703-0580
Giant #6275
1650 C Wesel Blvd
Hagerstown, MD 21740
(301) 790-0143
Giant #6466
1000 Logan Blvd
Altoona, PA 16602
(814) 949-3721
Saturday, July 15, 2017
Giant #231
2932 Chain Bridge Road
Oakton, VA 22124
(703) 242-2368
Giant #338
7025 Berry Road
Accokeek, MD 20607
(301) 893-3100
Giant #347
10480 Campus Way South
Largo, MD 20774
(301) 336-9402
Giant #375
1050 Brentwood Road N,E.
Washington, D.C. 20018
(202) 281-3900
Giant #6271
14635 Mt Airy Rd
Shrewsbury, PA 17361
(717) 227-9420
Giant #6294
1255 Carlisle Rd
York, PA 17404
(717) 718-1884
Giant #6300
3175 Cape Horn Rd
Red Lion, PA 17356
(717) 246-7137
Giant #744
5740 Union Mill Road
Clifton, VA 20124
(703) 818-0776
Sunday, July 16, 2017
Giant #354
1280 East-West Highway
Silver Spring, MD 20910
(301) 585-1670
Giant #361
5700 SE Crain Highway
Upper Marlboro, MD 20772
(301) 952-7515
Giant #363
1400 Merritt Blvd
Dundalk, MD 21222
(410) 631-1250
Giant #6107
901 Foxcroft Ave
Martinsburg, WV 25401
(304) 267-8286
Giant #6304
4211 Union Deposit Road
Harrisburg, PA 17111
(717) 920-0437
Giant #6425
24 Rising Sun Town Ctr
Rising Sun, MD 21911
(410) 658-7900
Giant #763
359 Maple Avenue
East Vienna, VA 22108
(703) 281-9257
Giant #797
44110 Ashburn Village Blvd #160
Ashburn, VA 20147
(703) 729-3877
Saturday, July 22, 2017
Giant #121
1161 Maryland Route 3 N
Gambrills, MD 21054
(410) 721-6623
Giant #127
17821 Georgia Avenue
Olney, MD 20832
(301) 570-1665
Giant #132
10400 Old Georgetown Road
Bethesda, MD 20814
(301) 897-9139
Giant #167
948 Bay Ridge Road
Annapolis, MD 21403
(410) 267-0228
Giant #6444
18726 N Pointe Dr
Hagerstown, MD 21742
(240) 420-8545
Giant #6454
15371 Montanus Dr
Culpeper, VA 22701
(540) 727-1076
Giant #6522
874 Bethlehem Pike
Flourtown, PA 19031
(215) 233-0420
Giant #765
1230 West Broad Street
Falls Church, VA 22046
(703) 237-9609
Sunday, July 23, 2017
Giant #256
10346 Courthouse Road
Spotsylvania, VA 22553
(540) 710-9310
Giant #2743
8970 Burke Lake Road
Springfield, VA 22151
(517) 328-7996
Giant #324
4315 Mountain Road
Pasadena, MD 21122
(410) 439-2103
Giant #329
9719 Traville Gateway Drive
Rockville, MD 20850
(410) 315-1460
Giant #336
2900 University Blvd West
Wheaton, MD 20902
(301) 692-4180
Giant #6004
1008 Lititz Pike
Lititz, PA 17543
(717) 625-0303
Giant #6446
4655 Perkiomen Avenue
Reading, PA 19606
(610) 406-9640
Giant #6449
205 Glen Dr
Manchester, PA 17345
(717) 266-8560
Saturday, July 29, 2017
Giant #117
6223-25 Baltimore Natl Pike
Baltimore, MD 21228
(410) 788-8023
Giant #2379
3336 Wisconsin Avenue NW
Washington, D.C. 20016
(202) 237-5820
Giant #243
317 Worth Avenue
Stafford, VA 22554
(540) 657-5006
Giant #326
10501 Greenbelt Road
Lanham, MD 20706
(301) 666-1180
Giant #368
842 Muddy Branch Road
Gaithersburg, MD 20878
(301) 948-8148
Giant #6265
1201 Knapp Rd
North Wales, PA 19454
(215) 661-1025
Giant #6424
2035 East Market St
Harrisonburg, VA 22801
(540) 442-7576
Giant #6448
180 Upland Square Dr
Stowe, PA 19464
(610) 705-0000
Sunday, July 30, 2017
Giant #300
8805 Centre Park Drive
Columbia, MD 21045
(443) 364-5180
Giant #303
601 East 33rd Street
Baltimore, MD 21218
(410) 649-4180
Giant #340
1009 Fairlawn Street
Laurel, MD 20707
(301) 725-0046
Giant #349
3530 Sugarloaf Parkway
Frederick, MD 21704
(301) 874-1200
Giant #357
5400 Westbard Avenue
Bethesda, MD 20816
(301) 652-1484
Giant #6287
100 Scott Town Ctr
Bloomsburg, PA 17815
(570) 389-9004
Giant #6306
2130 Palomino Rd
Dover, PA 17315
(717) 292-3702
Giant #6484
1605 Lititz Pike
Lancaster, PA 17601
(717) 299-0391
Saturday, August 5, 2017
Giant #123
7074 Allentown Road
Temple Hills, MD 20748
(301) 248-9578
Giant #166
4622 Wilkens Avenue
Baltimore, MD 21228
(410) 242-4669
Giant #2301
15618 Old Columbia Pk
Burtonsville, MD 20666
(301) 476-7181
Giant #2306
1020 W. 41st St & Hickory Ave
Baltimore, MD 21211
(410) 554-3730
Giant #6065
1360 Columbia Ave
Lancaster, PA 17603
(717) 291-9678
Giant #6079
275 Pauline Dr
York, PA 17402
(717) 741-5332
Giant #6257
720 West Street Road
Warminister, PA 18974
(215) 674-4607
Giant #760
6800 Richmond Highway
Alexandria, VA 22306
(703) 768-6720
Sunday, August 6, 2017
Giant #147
9580 Livingston Road
Fort Washington, MD 20744
(301) 248-0167
Giant #192
18250 Flower Hill Way
Gaithersburg, MD 20879
(301) 926-0340
Giant #261
3131 Duke Street
Alexandria, VA 22314
(703) 461-6198
Giant #334
3521 East West Highway
Hyattsville, MD 20782
(301) 853-3700
Giant #348
6050 Daybreak Circle
Clarksville, MD 21029
(410) 531-7831
Giant #6253
130 Old York Road
New Cumberland, PA 17070
(717) 774-4936
Giant #6443
925 Norland Avenue
Chambersburg, PA 17201
(717) 267-0440
Giant #6461
801 Baltimore St
Hanover, PA 17331
(717) 632-6673
Saturday, August 12, 2017
Giant #127
17821 Georgia Avenue
Olney, MD 20832
(301) 570-1665
Giant #2311
1115 Annapolis Road
Odenton, MD 21113
(410) 305-2370
Giant #346
5316 New Design Road
Frederick, MD 21701
(301) 698-9411
Giant #347
10480 Campus Way South
Largo, MD 20774
(301) 336-9402
Giant #6297
12101 Winchester Rd
Lavale, MD 21501
(301) 729-4294
Giant #6301
3477 Lincoln Hwy
Thorndale, PA 19372
(610) 383-5460
Giant #6447
2300 Linglestown Road
Harrisburg, PA 17110
(717) 545-0489
Giant #747
1450 N Point village
Reston, VA 20194
(703) 632-2882
Sunday, August 13, 2017
Giant #2376
1400 7th Street NW
Washington, D.C. 20001
(202) 238-0180
Giant #300
8805 Centre Park Drive
Columbia, MD 21045
(443) 364-5180
Giant #313
18331 Leaman Farm Road
Germantown, MD 20874
(301) 528-2760
Giant #330
3500 Crain Highway
Bowie, MD 20716
(301) 352-2360
Giant #6006
136 Kline Village
Harrisburg, PA 17104
(717) 909-7306
Giant #6289
2104 Van Reed Rd
West Lawn, PA 19609
(610) 670-4713
Giant #6525
708 E. Main Street
Waynesboro, PA 17268
(717) 765-0136
Giant #794
21000 Southbank Street - Ste 150
Sterling, VA 20165
(703) 430-1100
Saturday, August 19, 2017
Giant #196
2004 Goshen Road
Gaithersburg, MD 20879
(301) 874-1200
Giant #232
5870 Kingstown Blvd
Alexandria, VA 22315
(703) 313-0855
Giant #310
15520 Annapolis Road
Bowie, MD 20715
(301) 809-3150
Giant #322
11604 Reisterstown Road
Baltimore, MD 21136
(410) 526-1660
Giant #6054
455 Eisenhower Dr
Hanover, PA 17331
(717) 632-2882
Giant #6087
2415 East Market St
York, PA 17402
(717) 755-0991
Giant #6476
1465 W Broad St
Quakertown, PA 18951
(215) 538-3399
Giant #790
5581 Merchants View Square
Haymarket, VA 20169
(571) 248-4550
Sunday, August 20, 2017
Giant #2741
10653 Braddock Road
Fairfax, VA 22032
(703) 259-5514
Giant #334
3521 East West Highway
Hyattsville, MD 20782
(301) 853-3700
Giant #344
6020 Marshalee Drive
Elkridge, MD 21075
(410) 379-6405
Giant #357
5400 Westbard Avenue
Bethesda, MD 20816
(301) 652-1484
Giant #358
575 Ritchie Highway
Severna Park, MD 21146
(410) 544-4619
Giant #6332
224 Hardwood Drive
Lewisburg, PA 17837
(570) 524-9868
Giant #6422
4320 5th Street
Temple, PA 19560
(610) 939-2640
Giant #6455
65 Route 611
Bartonsville, PA 18321
(570) 421-1797
Saturday, August 26, 2017
Giant #109
405 N. Center Street
Westminster, MD 21157
(410) 857-3579
Giant #121
1161 Maryland Route 3 N
Gambrills, MD 21054
(410) 721-6623
Giant #365
3299 Emmorton Road
Abingdon, MD 21009
(410) 420-3160
Giant #368
842 Muddy Branch Road
Gaithersburg, MD 20878
(301) 948-8148
Giant #373
5500 Silver Hill Road
District Heights, MD 20747
(301) 817-3180
Giant #6029
550 Centerville Road
Lancaster, PA 17601
(717) 898-3011
Giant #6104
1729 Dual Hwy
Hagerstown, MD 21740
(301) 745-4901
Giant #6294
1255 Carlisle Rd
York, PA 17404
(717) 718-1884
Sunday, August 27, 2017
Giant #125
12051 Rockville Pike
Rockville, MD 20852
(301) 881-4541
Giant #141
7940 Crain Highway
Glen Burnie, MD 21061
(410) 969-7590
Giant #2310
9200 Baltimore Natl Pike
Ellicott City, MD 21042
(410) 313-8116
Giant #304
3297 Crain Highway
Waldorf, MD 20603
(301) 542-4180
Giant #335
1700 Kingfisher Dirve
Frederick, MD 21701
(301) 815-2200
Giant #6003
739 Park St
Cumberland, MD 21501
(301) 777-7656
Giant #6529
4510 Marketplace Way
Enola, PA 17025
(717) 909-7012
Giant #6539
5005 Jonestown Road
Harrisburg, PA 17109
(717) 545-3752
Saturday, September 2, 2017
Giant #123
7074 Allentown Road
Temple Hills, MD 20748
(301) 248-9578
Giant #127
17821 Georgia Avenue
Olney, MD 20832
(301) 570-1665
Giant #166
4622 Wilkens Avenue
Baltimore, MD 21228
(410) 242-4669
Giant #319
625 Hungerford Drive
Rockville, MD 20850
(301) 314-5160
Giant #364
1401 Rock Spring Road
Bel Air, MD 21014
(410) 420-2960
Giant #6271
14635 Mt Airy Rd
Shrewsbury, PA 17361
(717) 227-9420
Giant #6282
409 South St
Front Royal, VA 22630
(540) 635-2249
Giant #6307
1320 Londontown Blvd
Eldersburg, MD 21784
(410) 552-5107
Sunday, September 3, 2017
Giant #192
18250 Flower Hill Way
Gaithersburg, MD 20879
(301) 926-0340
Giant #348
6050 Daybreak Circle
Clarksville, MD 21029
(410) 531-7831
Giant #350
11221 New Hampshire Avenue
Silver Spring, MD 20904
(301) 593-1225
Giant #357
5400 Westbard Avenue
Bethesda, MD 20816
(301) 652-1484
Giant #361
5700 SE Crain Highway
Upper Marlboro, MD 20772
(301) 952-7515
Giant #6277
7673 Lake Raystown
Huntington, PA 16652
(814) 643-2794
Giant #6300
3175 Cape Horn Rd
Red Lion, PA 17356
(717) 246-7137
Giant #6484
1605 Lititz Pike
Lancaster, PA 17601
(717) 299-0391
Saturday, September 9, 2017
Giant #117
6223-25 Baltimore Natl Pike
Baltimore, MD 21228
(410) 788-8023
Giant #250
635 Potomac Station Drive
Leesburg, VA 20176
(571) 258-1900
Giant #338
7025 Berry Road
Accokeek, MD 20607
(301) 893-3100
Giant #347
10480 Campus Way South
Largo, MD 20774
(301) 336-9402
Giant #6122
1969 East 3rd St
Williamsport, PA 17701
(570) 329-2002
Giant #6299
200 Rivendell Ct
Winchester, VA 22603
(540) 723-6232
Giant #6461
801 Baltimore St
Hanover, PA 17331
(717) 632-6673
Giant #760
6800 Richmond Highway
Alexandria, VA 22306
(703) 768-6720
Sunday, September 10, 2017
Giant #233
7235 Arlington Blvd
Falls Church, VA 22042
(703) 280-3340
Giant #2376
1400 7th Street NW
Washington, D.C. 20001
(202) 238-0180
Giant #261
3131 Duke Street
Alexandria, VA 22314
(703) 461-6198
Giant #354
1280 East-West Highway
Silver Spring, MD 20910
(301) 585-1670
Giant #6320
1241 Blakeslee Blvd
Lehighton, PA 18235
(570) 386-4146
Giant #6425
24 Rising Sun Town Ctr
Rising Sun, MD 21911
(410) 658-7900
Giant #6453
330 Marketplace Blvd
Selinsgrove, PA 17870
(570) 743-0106
Giant #744
5740 Union Mill Road
Clifton, VA 20124
(703) 818-0776
Saturday, September 16, 2017
Giant #2311
1115 Annapolis Road
Odenton, MD 21113
(410) 305-2370
Giant #256
10346 Courthouse Road
Spotsylvania, VA 22553
(540) 710-9310
Giant #344
6020 Marshalee Drive
Elkridge, MD 21075
(410) 379-6405
Giant #362
20944 Frederick Road
Germantown, MD 20876
(301) 515-9282
Giant #6003
739 Park St
Cumberland, MD 21501
(301) 777-7656
Giant #6301
3477 Lincoln Hwy
Thorndale, PA 19372
(610) 383-5460
Giant #6468
2550 Grant Ave
Philadelphia, PA 19114
(215) 464-8280
Giant #748
2901-11 South Glebe Road
Arlington, VA 22206
(703) 836-0245
Sunday, September 17, 2017
Giant #243
317 Worth Avenue
Stafford, VA 22554
(540) 657-5006
Giant #324
4315 Mountain Road
Pasadena, MD 21122
(410) 439-2103
Giant #336
2900 University Blvd West
Wheaton, MD 20902
(301) 692-4180
Giant #346
5316 New Design Road
Frederick, MD 21701
(301) 698-9411
Giant #6065
1360 Columbia Ave
Lancaster, PA 17603
(717) 291-9678
Giant #6112
255s Spring Garden Street
Carlisle, PA 17013
(717) 249-2323
Giant #6304
4211 Union Deposit Road
Harrisburg, PA 17111
(717) 920-0437
Giant #743
3450 Washington Blvd
Arlington, VA 22201
(703) 358-9343
Saturday, September 23, 2017
Giant #132
10400 Old Georgetown Road
Bethesda, MD 20814
(301) 897-9139
Giant #232
5870 Kingstown Blvd
Alexandria, VA 22315
(703) 313-0855
Giant #310
15520 Annapolis Road
Bowie, MD 20715
(301) 809-3150
Giant #340
1009 Fairlawn Street
Laurel, MD 20707
(301) 725-0046
Giant #6045
849 West Baltimore St
West Grove, PA 19390
(610) 345-0183
Giant #6106
6542 Logan Square
New Hope, PA 18938
(215) 862-9061
Giant #6306
2130 Palomino Rd
Dover, PA 17315
(717) 292-3702
Giant #747
1450 N Point village
Reston, VA 20194
(703) 632-2882
Sunday, September 24, 2017
Giant #2743
8970 Burke Lake Road
Springfield, VA 22151
(517) 328-7996
Giant #316
6000 Greenbelt Road
Greenbelt, MD 20770
(301) 982-5482
Giant #335
1700 Kingfisher Dirve
Frederick, MD 21701
(301) 815-2200
Giant #357
5400 Westbard Avenue
Bethesda, MD 20816
(301) 652-1484
Giant #6284
1824 Ridge Pike
Royersford, PA 19468
(610) 831-5450
Giant #6446
4655 Perkiomen Avenue
Reading, PA 19606
(610) 406-9640
Giant #6457
7150 Hamilton Blvd
Trexlertown, PA 18087
(601) 381-0152
Giant #781
12445 Hedges Run Drive
Lake Ridge, VA 22192
(703) 491-7615
Saturday, September 30, 2017
Giant #117
6223-25 Baltimore Natl Pike
Baltimore, MD 21228
(410) 788-8023
Giant #320
229 Kentlands Boulevard
Gaithersburg, MD 20878
(301) 208-8203
Giant #326
10501 Greenbelt Road
Lanham, MD 20706
(301) 666-1180
Giant #6079
275 Pauline Dr
York, PA 17402
(717) 741-5332
Giant #6442
116 West Township Line Road
Havvertown, PA 19083
(610) 449-1161
Giant #6484
1605 Lititz Pike
Lancaster, PA 17601
(717) 299-0391
Giant #794
21000 Southbank Street - Ste 150
Sterling, VA 20165
(703) 430-1100
Giant #799
61 Catoctin Circle NE
Leesburg, VA 20176
(703) 771-1899
Sunday, October 1, 2017
Giant #125
12051 Rockville Pike
Rockville, MD 20852
(301) 881-4541
Giant #2301
15618 Old Columbia Pk
Burtonsville, MD 20666
(301) 476-7181
Giant #235
5701 Plank Road
West Fredericksburg, VA 22401
(540) 785-1020
Giant #348
6050 Daybreak Circle
Clarksville, MD 21029
(410) 531-7831
Giant #6051
141 E Swedesford Rd
Exton, PA 19341
(610) 594-0847
Giant #6422
4320 5th Street
Temple, PA 19560
(610) 939-2640
Giant #6445
1540 Cowpath Rd
Hatfield, PA 19440
(215) 361-4190
Giant #788
14125 Saint Germain Drive
Centreville, VA 20121
(703) 631-3310
Saturday, October 7, 2017
Giant #313
18331 Leaman Farm Road
Germantown, MD 20874
(301) 528-2760
Giant #330
3500 Crain Highway
Bowie, MD 20716
(301) 352-2360
Giant #361
5700 SE Crain Highway
Upper Marlboro, MD 20772
(301) 952-7515
Giant #373
5500 Silver Hill Road
District Heights, MD 20747
(301) 817-3180
Giant #6271
14635 Mt Airy Rd
Shrewsbury, PA 17361
(717) 227-9420
Giant #6282
409 South St
Front Royal, VA 22630
(540) 635-2249
Giant #6307
1320 Londontown Blvd
Eldersburg, MD 21784
(410) 552-5107
Giant #760
6800 Richmond Highway
Alexandria, VA 22306
(703) 768-6720
Sunday, October 8, 2017
Giant #123
7074 Allentown Road
Temple Hills, MD 20748
(301) 248-9578
Giant #2311
1115 Annapolis Road
Odenton, MD 21113
(410) 305-2370
Giant #2376
1400 7th Street NW
Washington, D.C. 20001
(202) 238-0180
Giant #261
3131 Duke Street
Alexandria, VA 22314
(703) 461-6198
Giant #350
11221 New Hampshire Avenue
Silver Spring, MD 20904
(301) 593-1225
Giant #6297
12101 Winchester Rd
Lavale, MD 21501
(301) 729-4294
Giant #6300
3175 Cape Horn Rd
Red Lion, PA 17356
(717) 246-7137
Giant #6310
830 N. US Route 15
Dillsburg, PA 17019
(717) 638-1230
Saturday, October 15, 2017
Giant #141
7940 Crain Highway
Glen Burnie, MD 21061
(410) 969-7590
Giant #196
2004 Goshen Road
Gaithersburg, MD 20879
(301) 874-1200
Giant #2742
621 East Glebe Road
Alexandria, VA 22305
(703) 518-4797
Giant #310
15520 Annapolis Road
Bowie, MD 20715
(301) 809-3150
Giant #349
3530 Sugarloaf Parkway
Frederick, MD 21704
(301) 874-1200
Giant #368
842 Muddy Branch Road
Gaithersburg, MD 20878
(301) 948-8148
Giant #6449
205 Glen Dr
Manchester, PA 17345
(717) 266-8560
Giant #6485
789 East Main St
Mt Joy, PA 17552
(717) 653-0396
Saturday, October 21, 2017
Giant #2376
1400 7th Street NW
Washington, D.C. 20001
(202) 238-0180
Giant #250
635 Potomac Station Drive
Leesburg, VA 20176
(571) 258-1900
Giant #304
3297 Crain Highway
Waldorf, MD 20603
(301) 542-4180
Giant #358
575 Ritchie Highway
Severna Park, MD 21146
(410) 544-4619
Giant #790
5581 Merchants View Square
Haymarket, VA 20169
(571) 248-4550
Sunday, October 22, 2017
Giant #123
7074 Allentown Road
Temple Hills, MD 20748
(301) 248-9578
Giant #227
10100 Dumfries Road
Manassas, VA 22110
(703) 331-2310
Giant #2376
1400 7th Street NW
Washington, D.C. 20001
(202) 238-0180
Giant #256
10346 Courthouse Road
Spotsylvania, VA 22553
(540) 710-9310
Giant #347
10480 Campus Way South
Largo, MD 20774
(301) 336-9402
Saturday, October 28, 2017
Giant #2310
9200 Baltimore Natl Pike
Ellicott City, MD 21042
(410) 313-8116
Giant #2743
8970 Burke Lake Road
Springfield, VA 22151
(517) 328-7996
Giant #320
229 Kentlands Boulevard
Gaithersburg, MD 20878
(301) 208-8203
Giant #743
3450 Washington Blvd
Arlington, VA 22201
(703) 358-9343
Giant #797
44110 Ashburn Village Blvd #160
Ashburn, VA 20147
(703) 729-3877
Sunday, October 29, 2017
Giant #233
7235 Arlington Blvd
Falls Church, VA 22042
(703) 280-3340
Giant #310
15520 Annapolis Road
Bowie, MD 20715
(301) 809-3150
Giant #335
1700 Kingfisher Dirve
Frederick, MD 21701
(301) 815-2200
Giant #748
2901-11 South Glebe Road
Arlington, VA 22206
(703) 836-0245
Giant #794
21000 Southbank Street - Ste 150
Sterling, VA 20165
(703) 430-1100