Fin City's Favorite Catch & New Reelease
Favorite Catch
Poor Man's IPA
A golden IPA that's complexity is due to four separate additions of 6 hop varieties. It's floral beginning is complimented by intense tropical and citrus aromas achieved by dry hopping with the finest hops from the west coast. India Pale Ale 6.6% ABV 77 IBU.
Favorite New Reelease
Double Hook 2x IPA
Our most aggressively hopped beer is crammed full of Centennial hops for a bright citrus delight. This deep golden ale is finished with dry additions of fresh earthy hops over the course of many days to leave you with a richness and complexity you won't find in any other 2xIPA. Double Indian Pale Ale 7.9% ABV 88 IBU.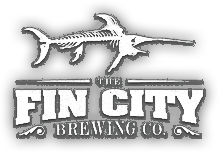 *New Reelease is a limited one off brew available for a limited time.