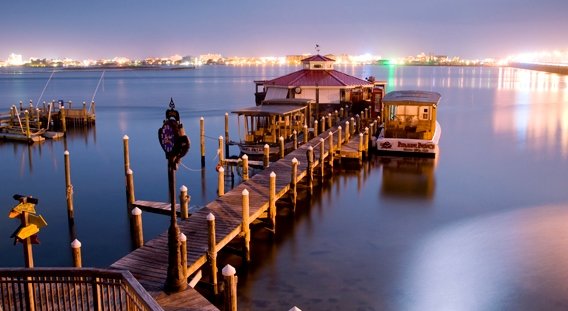 Thank you all for your continued support throughout over a quarter-century of dining in the Bay. We strive to bring you the tradition of the Chesapeake along with all the fun and escape of the Florida Keys, right here in your backyard.
"Thank you" for being a part of Sneaky Pete's… we can't wait to see you again.
Sincerely,
Pete and Royette Shepherd, Ryan, Mike, and Sneaky Pete's Staff
Also make sure you check out our boat docked dining.  It's an experience to remember!
Printable Menu  Sneaky Pete's Photo Gallery
Lite Fare

Chicken Tenders

Juicy white meat fried golden brown served with fries.

Crabby Pretzel

Our famous crab spread on a soft pretzel topped with cheddar cheese.

Ahi Nachos

Fresh tuna over wonton chips with avocado, cusabi and secret weapon sauce...served rare

Coconut Shrimp

Jumbo shrimp lightly dusted in coconut flakes.

Chicken Wings

Traditional wings served Hot, BBQ, Chesapeake or Smoked Seaside GF

Chucky's Bang Bang Shrimp

Lightly battered fried shrimp tossed in a savory, garlic chili sauce

Fish Tacos

OC West style tacos, grilled mahi, with boom boom sauce, fresh pico de gallo and cilantro citrus slaw.

Jerk Chicken

Homemade, spicy chicken tenderloins served with honey mustard. GF

From The Steamer

Steamed Shrimp

Large shrimp seasoned in our own blend of spices and steamed with onions - 1lb GF

1 LB Snow Crab Legs

Served with drawn butter...perfect to share GF

Soups and Salads

Maryland Vegetable Crab GF

House Salad

A blend of mixed greens with carrots, cherry tomatoes, red onions & cucumbers. GF

Add Grilled Chicken $8 | Add Salmon $18 | Add Steak 15

Crab & Avocado Salad

Jumbo lump crab meat, avocado, sun-dried tomatoes & crispy bacon over mixed greens with a citrus vinaigrette. GF

Lunch

Served on roll with kosher dill pickle & chips or add fries for $2.00.

Angus Burger

Thick & juicy certified Angus...biggest and baddest around
Add Bacon $2

Hell's Kitchen Diablo Burger

One half-pound burger topped with pepper jack cheese, fresh jalapeno slices and jalapeno bacon.

Crab Cake

Homemade lump crab cake served broiled or fried.

Fish & Chips

Colossal fillet of beer-battered Alaskan Haddock served with crispy fries.

Hawaiian Chicken Sandwich

Grilled chicken breast topped with seared pineapple and applewood bacon, drizzled with BBQ sauce.

Lobster Roll

Chilled Maine lobster tossed in our creamy lemon mayo and served in a buttery split top bun

Prime Rib Sandwich

Tender slices of slow roasted Prime Rib topped with caramelized onions and melted provolone on freshly baked French bread served with a side of Au Jus
Add Diablo Style 2

Salmon BLT

Huge, seared fillet of Atlantic salmon topped with bacon, lettuce, tomato and bacon jam aioli

Italian Stallion

Genoa salami, pepper ham, gabagool and fresh mozzarella on toasted asiago cheese ciabatta bread.

Dinner

All entrees served with corn on the cob & french fries.

Crab Cake Platter

Two lump crab cakes deep fried or broiled to perfection.

Snow Crab Legs

Over two lbs, served with drawn butter.

Fried Shrimp

Generous helping of large butterflied shrimp that are lightly breaded then fried.

Awesome Clawsome

1 lb lobster, snow crab legs, two blue crabs and corn

Seafood Platter

A broiled crab cake with scallops, shrimp and fillet of fresh fish. A seafood lover's delight.

Coconut Shrimp

Our classic fried shrimp covered in coconut flakes.

Steak Fritz

Sweet chipotle marinated steak topped with cowboy butter over garlic parmesan fries

Sneaky Pete's All You Can Eat

All you can eat crabs & corn on the cob

All You Can Eat Crabs & Corn on the Cob

Steamed Crabs (seasoned with Hooper's Crab Spice) & Corn On The Cob
Kids 10 and under $20

*No take homes. We do not serve reheats. All-U-Can-Eat is for the person ordering only. All those sharing will be charged an additional full price.

Lil' Tots

For our under 10 diners. All kid meals includes fries, fruit and a drink.

Hooper's Stadium Cup Special

Stadium Cup

22 0z. Souvenir Cup
Filled with your choice:
Soda or Iced Tea $6
Draft Beer $8 with $4 Refills
Select Mixed Drinks $12
Select Mixed Drink Refils $8
Free Refills on Soft Drinks and Iced Tea

Beverages

By the Glass $3
Stadium Cup 22oz. $6 Free Soft Drink & Iced Tea Refills

Stadium Cup

22 0z. Souvenir Cup
Filled with your choice:
Soda or Iced Tea $6
Draft Beer $8 with $4 Refills
Select Mixed Drinks $12
Select Mixed Drink Refills $8
Free Refills on Soft Drinks and Iced Tea

Beverages

| | | |
| --- | --- | --- |
| Pepsi | | Dr. Pepper |
| Diet Pepsi | | Raspberry Iced Tea |
| Starry | | Unsweetened Fresh Brewed Iced Tea |
| Mountain Dew | | Milk |
| Ginger Ale | | Chocolate Milk |
| Sweet Tea | | Coffee |
| Pink Lemonade | | Hot Tea |

Fruit Smoothies $6
(Strawberry, Pina Colada, Banana, & Tropical Fruit Punch)

Sneaky Pete's Draft Beer

By the Glass or 22 oz. Stadium Cup

Draft Beer

By the Glass or 22 oz. Stadium Cup

White Marlin Pale Ale
Coors Light
Budweiser
Poor Man's IPA
Miller Lite
Yuengling
Rotating Craft

Sneaky Pete's Beer

Beer

Craft Cans
Domestic Brews
White Marlin Pale Ale
Coors Light
Poor Man's IPA
Miller Lite
Endless Chummer Watermelon IPA
Michelob Ultra
Pure Lure Pislner
Corona
Pitboss Brown Ale
Corona Light
Budweiser
Modelo
Alternatives
Heineken 0.0
Twisted Tea
Angry Orchard
Truly Wild Berry

Fin City Bucket of Newest Reel-eases!

Mix & Match Buckets: Six Cans $25
Single Cans $5 each

Sneaky Pete's Wine

Served by the glass or bottle

Wine

Served by the glass or bottle

Kendall Jackson Chardonnay
Kendall Jackson Pino Grigio
Mark West Pino Noir
Cupcake Prosecco
Jacob's Creek Moscato
Skyside Cabernet Sauvignon
Stoneleigh Marlborough Sauvignon Blanc